Yoga Classes At Work
Improve your team's morale, focus, and energy with a premium yoga class.
Employee Health
=
Company Wealth
The success of your team and your business depends on the performance of its members.
Stress can lead to anxiety, decreased cognitive abilities, and poor performance.
Our premium yoga classes are the perfect antidote!
Benefits of Yoga Classes At Work
Employers are using yoga to combat stress and improve their employees' health.
Increased Focus
Improve employee concentration, productivity, decision-making skills, and ability to multi-task.
Reduced Stress
The mental benefits of yoga can increase employees' energy levels and reduce their stress levels, and stress-related sick occurrences.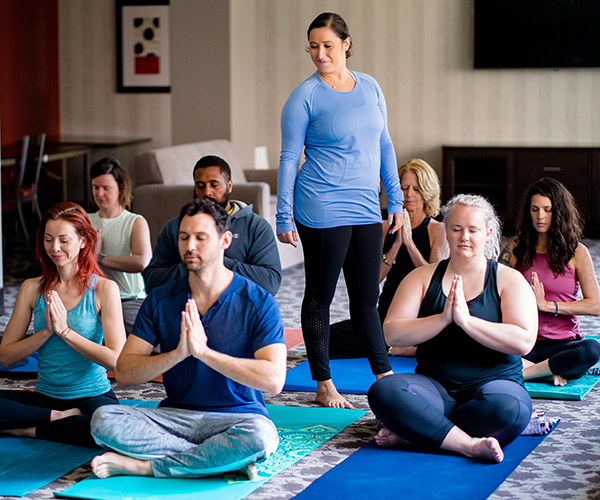 Improved Health
Yoga at the workplace can lead to less sick days and higher performance among employees.
Classes & Pricing
Choose the right type for you based on the number of people in your class.
Yoga Beyond The Studio is only available in the US. Prices are subject to change without notice and may have variations in actual amounts to be paid based on region, time of appointment, taxes, fees, discounts, or other factors. Actual charges may vary.
Frequently Asked Questions
Starting your yoga practice doesn't have to be intimidating.
Have any additional questions? Please contact us today.
How long is a yoga at work class?
Our yoga at work classes are 1 hour long. We can offer longer lessons for an additional fee, or shorter sessions to match your schedule.
How often should my employees do yoga?
The more they practice, the quicker they'll notice the benefits of yoga. We recommend practicing yoga at least 1 - 2 times per week.
Do we need yoga props?
Our instructors will create a class that doesn't require props. Each student will simply need a yoga mat to participate.
Ready to book your yoga class?
Send us a booking request and we'll match you with the perfect instructor for your team.
Book Now
Customer Reviews
See what our customers have to say about their private yoga classes.