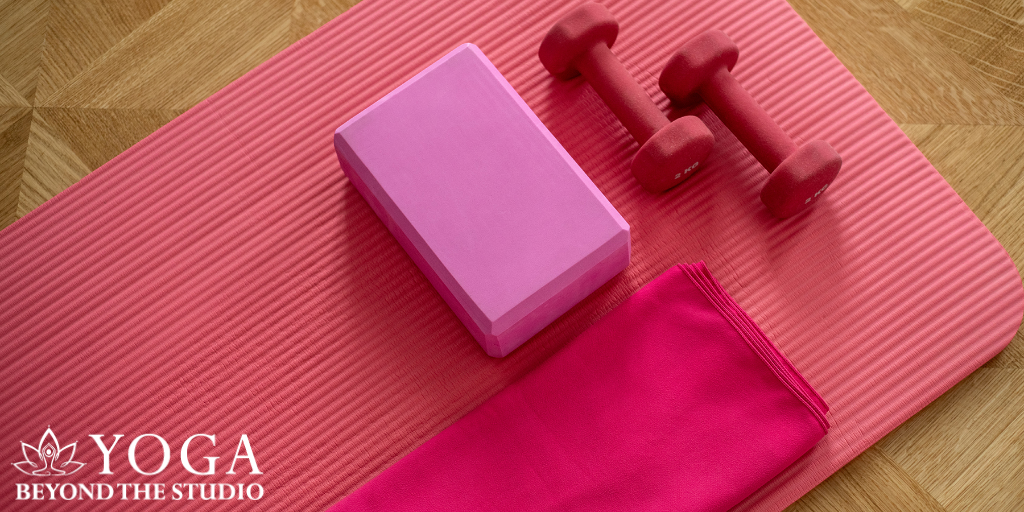 At Yoga Beyond the Studio, our mission is to help more people find approachable yoga. We specialize in working with beginners and making yoga accessible to everybody and every body.
When you start practicing yoga, it can be challenging to know what equipment you need to get started. Worry not, we're here to help you make good decisions that will support your healthy new yoga habit.
Let's start with the good news – you don't need much to get started. Plus, the recommendations you'll find in this guide are of products that use high-quality materials so making these purchases is more of an investment in your well-being.
The opinions described below are the opinions of the writer of this article. This post contains references to products from one or more of our advertisers. We may receive compensation when you click on links to those products.
Essential Equipment
So what equipment is essential to a beginner yogi?
To get started with your yoga practice, you'll need the right yoga mat, and the right yoga clothing.
For beginners, we also recommend yoga blocks, and a yoga bolster. More on that later.
Yoga Mat
Your yoga mat creates traction for your hands and feet so you don't slip, especially as you get a little sweaty. It also provides cushioning on a hard floor (your knees will thank you for choosing an extra soft mat). Plus, the mat defines your personal space.
Premium yoga mats that are made from quality materials are a worthy investment.
You'll often find a starter mat at various retailers (think Walmart, Target) for as little as $20. If you decide to buy a cheaper mat, you may find yourself replacing it in short order if you use it often.
Our take: Don't look for the cheapest yoga mat. Invest in a great thick mat.
⚠ If you're not seeing clickable recommendations above, please disable your ad blocker.
Gaiam Yoga Mat is a Premium 6mm yoga mat that is Reversible, Extra Thick, Non-Slip. It measures 68″ x 24″ x 6mm Thick.
With over 10,000 5-star reviews, this mat is popular with students and teachers alike. We especially like the Dandelion Roar pattern.
If you think 6-inches is too thick for you, consider the HemingWeigh 1 inch Thick Yoga Mat made with high-density anti-tear premium foam.
If you plan to bring your mat with you on the go, HemingWeigh's easy strapping system and lightweight features allow less time and effort to roll and carry this mat with you wherever you want to go.
Finally, for an extra large mat, check out the IUGA Pro Non-Slip Yoga Mat (72"X26") featuring Non-Slip Performance, Eco Friendly Material, Lightweight and Extra Large Size, with a Free Carry Strap.
---
Yoga Clothing
While not technically required if you're practicing yoga on your own, if anyone else is around – it's generally a good idea to have some clothes on.
Our take: Start with comfortable breathable athletic apparel you already own and purchase mid-level basics for anything you're missing.
Women's Yoga Pants
THE GYM PEOPLE Thick High Waist Yoga Pants features Comfortable High Waist, Pockets, Wide-Waist Elastic Waistband, and over 28,000 5-star reviews.
Another great option is the Fengbay 2 Pack High Waist Yoga Pants, with Pockets, 4 Way Stretch, with some reviewers saying these are incredibly comfortable, breathable, and would even make Big Bird look good.
---
Women's Yoga Tops
CRZ YOGA Seamless Workout Tank Top is a great pick! Lightweight, stretchy compression, moisture-wicking, and soft fabric gives you a better experience than many of the more expensive brands.
Aeuui Workout Top is also a great beginner yoga top. It features a sweat-absorbent fabric and 95% Polyester 5% Spandex, Soft and breathable.
Sports Bras
RUNNING GIRL Sports Bra is an affordable high-quality choice. This sweat-wicking cross-strap bra gives you the coverage and support you need for yoga without restricting your movement or breath.
The fabric has added lycra that allows the bra to stretch with you and retain its shape over time. Slip in optional, removable cups for full coverage—if you want it.
This bra is intended to provide medium support for great shape retention, and long-lasting comfort.
Nike Women's Medium Support Non Padded Sports Bra is a solid pick as well.
Featuring Dri-FIT technology that pulls sweat away from your skin to help you stay dry and comfortable as well as a racerback design lets you move naturally through your workout with flat seams that feel smooth against your skin.
Sweatbands
QiShang Workout sweatbands does exactly what you want a sweatband to do. Simple and reasonably priced.
Recommended Equipment
Now that essentials are covered let's talk about yoga props that are optional, but recommended (especially for beginners to yoga).
Yoga props allow students to maintain the healthiest alignment and help get the most out of each pose while avoiding injury.
We absolutely love using yoga props as we believe they can help make yoga more accessible to even the tightest of humans.
Yoga Blocks
The Manduka Yoga Blocks are simply amazing.
Made of sustainable cork, this high-quality cork yoga block has a firmness not found in foam blocks and allows you to feel secure in the support it provides.
Plus, the easy-to-grip textured surface makes it an awesome choice for yoga.
Yoga Bolsters
A yoga bolster supports the body during yoga, meditation, or relaxation. It is also helpful to have in certain poses.
The Gaiam Yoga Bolster Rectangular Meditation Pillow is a great pick for the job.
It is filled with natural cotton batting for superior comfort and cushion and features a sturdy handle for hassle-free transport.
Yoga Straps
Straps help you stretch certain muscles during your practice. Lots of classes and yoga types do not require a yoga strap, but for some poses, a strap can be very helpful.
The Tumaz Yoga Strap is a great pick for your first yoga strap.
It is a simple, non-elastic band that provides extra stability and flexibility for stretching and yoga.
Featuring 4 mm welded D-ring buckles, 2.5 mm thickness, eco-friendly dyeing, special tight-knit technique, and delicate texture.
Yoga Blankets
This Yoga Blanket is cozy, practical, and full of vibrant colors to add joy wherever you take them.
A yoga blanket can prove quite useful in yoga. It stands in the gap when flexibility is limited, it can help cushion certain poses, and provides cozy warmth as you slip into Savasana (that fun pose where you just lie on your back and relax).
Myofascial Release Props
Myofascial Release is a type of physical therapy often used to help relieve pain caused by sensitivity and tightness in your myofascial tissues. These tissues surround and support the muscles throughout your body.
The Posture Magic Massage Ball Set for Myofascial Trigger Point Release is a 6 in 1 massage ball set was specifically designed for people who are looking for deep tissue massage, myofascial & trigger point release.
The bundle pack includes a large foam ball (3.5"), a small foam ball (2.6"), a smooth lacrosse ball (2.5"), a peanut ball (5.5"), a spiky ball (3"), a hand exercise ball (2.6"), a carry bag and a comprehensive exercise guide.
Meditation Cushion
Meditation cushions can benefit people who meditate. The cushions provide support and comfort — most of them lift the hips off the floor to support the lumbar spine's natural curvature.
This support relieves the excess pressure that a person may experience if they have difficulties maintaining good posture.
For your meditation cushion, try the Florensi Meditation Cushion.
With over 6000 5-star reviews, this meditation pillow can be a great complement to your meditation practice.
Equipment Getting-Started Checklist
So to summarize, here is a checklist to help you make sure you have the props you need to get started with your yoga practice:
Yoga Mat
Yoga Clothing
Yoga Blocks
Yoga Bolsters
Yoga Straps
Yoga Blanket
Myofascial Release Props
Meditation Cushion
Private Yoga Classes for Beginners to Yoga
Here at Yoga Beyond The Studio we offer online private yoga classes and in-person private yoga classes that are designed for beginners to the world of yoga.
Ease into the practice at your pace with the guidance of a highly-experienced certified yoga instructor.
Check out our blog article 9 Benefits of Taking Private Yoga Classes to learn more.
Click here to book your private yoga class or contact us for any questions or concerns.