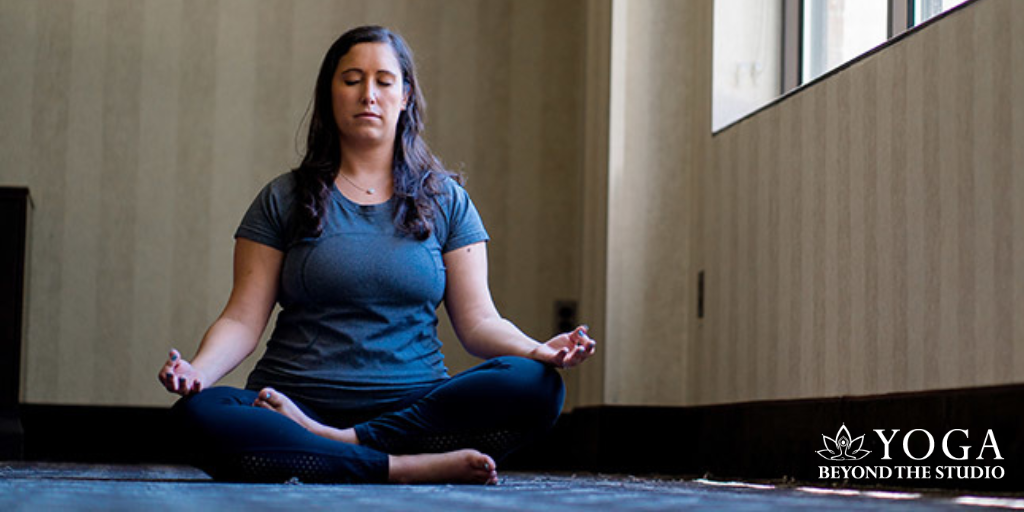 Fitting in time to practice self-care isn't easy – especially when you're struggling to balance work, family, and countless other responsibilities that come with being an adult.
What if you could reap all of the benefits that yoga has to offer from the privacy of your own home? But how do you start yoga by yourself?
Starting yoga by yourself is not only super easy, but you may even find it more relaxing than going to your regularly scheduled yoga classes!
Ready to learn more about starting a home yoga practice as a beginner to yoga? Grab your mat and let's get into it!
What Yoga Equipment Do You Need To Get Started?
Read Our Guide: Yoga Equipment For Beginners
Why Should You Start an At-Home Practice?
Starting an at-home yoga practice is extremely rewarding. And the best part is, you don't need too much to get started.
Why should you start practicing from home? Even if you're completely new to the world of yoga and the many benefits it offers your mental and physical health, here are just a few reasons why you should start your own home studio:
Refine flexibility and mobility throughout your body
Release tension throughout your body, mind, and spirit
Develop the ability to manage your stress levels
Tone your muscles and develop strength
Create healthy challenges for yourself that allow you to grow as a person
Learn to breathe deeply, to nourish your body
Now that you know the many benefits of adopting a yoga routine at home, let's discuss how to get one started!
How Do You Get Started?
To get working on building your home yoga studio, you should:
Find a quiet, clean space in your home
Fill this spot with supplies that you need to practice yoga (like a bolster, mat, blocks, blanket, and straps).
If you don't have any clean spots, take a space that you feel is sacred and clean it up a bit! Keep in mind that it doesn't have to be a large area.
If this is the beginning of your yoga journey, we recommend investing in a yoga mat. You can use substitutes around your home for other yoga gear. For example, you can use a belt in replacement of a yoga strap. To replace yoga blocks, you can use a couple of sturdy throw pillows!
When you're first starting off with your home yoga practice, make sure you're setting realistic goals for yourself. This helps avoid disappointment, and most importantly, injury.
How Do You Keep Yourself Motivated?
The logistics of setting up your home yoga space are simple. The hardest part for most people is simply finding the motivation – we can help with that too.
Thankfully, there are a handful of different ways that you can foster a positive yoga environment without leaving the comfort of your home. Here are three tips to help encourage a consistent yoga schedule:
Prepare the Night Ahead
Just like with anything else in life, preparing yourself for a yoga session is one of the easiest ways you can be successful! If you're worried that you won't stick to your scheduled yoga sessions, get everything you need out the night before.
Pick out a yoga outfit before bed and lay it out in a place where it's easy to grab. Layout your mat and leave it to serve as an inspiration to get that morning session in.
Put together an idea of what type of yoga you're interested in practicing. Whether it's a sweaty workout, a relaxation session, or just a few basic poses to help work on building your strength.
Schedule a Time
Part of the challenge of keeping a consistent schedule with an at-home yoga studio is that you aren't forced to practice at a certain time every day. If you aren't intentionally setting time aside to practice yoga, you'll be less likely to follow through with your yoga goals.
Get your planner out and take a look at your week. Set aside time in advance of when you'll do your yoga activities and how long each yoga session will be.
Put these sessions into your planner and think of them in the same way that you would think of a scheduled yoga class at your local gym or studio.
Even if you have to shorten your class time or completely reschedule, that's okay, as long as it's not a habit you develop. If later on in your week you feel like you're struggling to keep your appointments, try adjusting your schedule for the upcoming week.
Create Your Own Yoga Flow
Do you find following along with yoga videos stressful? Skip over following another person lead your yoga session and give yourself the chance to decide how you need to nourish your body.
Creating your own movements based off of what your current mental, spiritual, emotional, and physical needs are.
Your yoga session doesn't have to be anything fancy or complex (unless that's what you want to do). If you've experimented with other yoga practice options and think that leading yourself through your own yoga session, feel free to experiment with what feels best for you and your body!
Need some help getting started with yoga?
Yoga Beyond The Studio offers private yoga classes at the comfort of your home or yoga classes at your workplace.
And the best part? Our yoga instructors are highly experienced at easing beginners into yoga in a comfortable and safe manner. Want to learn more? Ready to book your first session?
Unlike group classes in a yoga studio, our private classes are tailored for your needs and goals. Our highly-trained yoga instructors will work with you to build a strong, safe foundation while progressing toward your unique goals.