From $2299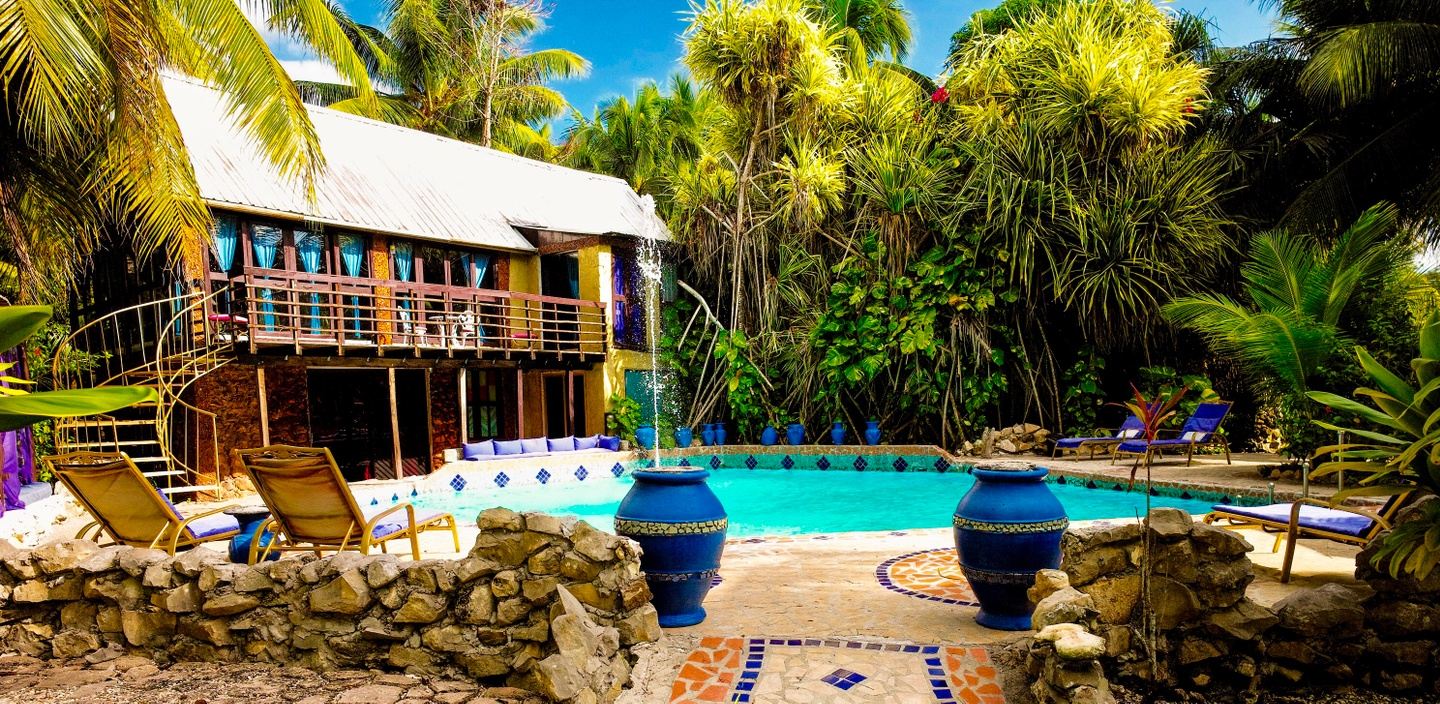 Yoga & Adventure Retreat in Belize - December '23
Multiple adventure tours, daily yoga, 1-hour professional massage, delicious chef-prepared meals, and a luxurious jungle chic boutique resort.
Retreat Location
Maskall, Belize
Retreat Dates
December 3 - 9, 2023
Required Yoga Experience
None (beginners encouraged)
About This Yoga Retreat
Immerse yourself in the natural surroundings of Central America and sink into the "Belize way of life."
That is, go with the flow, catch the sun, soak, sip, and just BE.
Explore nature, breath deeply, and be present in every moment.
What's Included
Spend 6 nights and 7 days at the beautiful Belize Boutique Resort & Spa in Maskall, Belize.
Roundtrip transfers from the Philip S.W. Goldson International Airport (BZE).
Booking travel can be tedious, but not on our retreats. once you book your spot, our private travel concierge will reach out to you to assist you with booking your flights, travel insurance, and trip extensions.
Daily yoga classes (1 - 2 per day) designed for all levels of yoga with an emphasis for beginners. As with all of our retreats, we welcome and encourage those who have never done yoga before!
We will provide you with the yoga equipment you'll need for this retreat, including yoga mats, blocks, and straps.
Three gourmet meals daily, prepared and made to order.
Enjoy one complimentary 60-minute massage. Options include aromatherapy, mud, or seaweed massages. Certain massage types may be shorter in duration.
Spend A half-day touring Altun Ha Mayan ruins.
A full day guided cave tubing tour, lunch & entrance fee included.
Roundtrip airfare is not included.
You never know what can happen when it comes to travel. Missed flights, delays, illnesses. You want to make sure you are covered so buy your travel insurance as soon as you book your spot!
Gratuity is not included in the cost of your trip. If you enjoy your experience and the service at our hotel, please thank those who made your trip better with a tip. Usually, 10%-20% is customary in Belize.
Sometimes things don't go as planned due to circumstnaces beyond our control. As such, activities and included parts of the trip are subject to change.
Retreat Pricing
This retreat is hosted by Yoga Beyond The Studio Retreats LLC. A company dedicated to offering exclusive and elevated retreats. Trip total may be subject to additional taxes and fees.
The Accommodations
In the Mayan Rainforest of Belize, the Belize Boutique Resort and Spa strikes the right vibe of urban jungle chic.
Perfect for a Yoga getaway with your friends, your partner, or even on your own to meet new people and explore new places!
Modern luxury accommodations will all include air conditioning, a necessary luxury in the jungle. Each guest room is individually designed and decorated with fabrics collected from around the world and local hand-crafted Belizean hardwood furniture.
There are two beautiful on-site pools as well as a solar-heated mineral bath.
Property Amenities:
16 luxury accommodations on property.
Thrilling adventure tours for resort guests only.
An Incredible jungle spa to rejuvenate body and soul.
A full restaurant and bar, fine dining and cuisine.
Two outdoor Swimming Pools.
A solar heated mineral bath and several lounge areas.
* If you are traveling with a group, please list the names of those you would like to room with under "Notes to the Organizer", If you are traveling alone, I am happy to pair you with a new friend.
The Yoga
Throughout this retreat, we will offer yoga and meditation classes catered towards all levels with an emphasis for beginners to yoga.
We absolutely welcome those who have never done yoga before! You will have an amazing time on this retreat.
Each day we will build on the lessons from the day before ensuring you return home with a new found yoga practice that you can continue to nurture and grow on your own.
On this retreat, you will enjoy 1 - 2 yoga classes daily. We will explore movements that promote healthy bodies as well as quiet time for meditation and healing of the mind.
Most of our yoga sessions will be in a stone and mosaic filled cottage. Some of our yoga will also be poolside!
(Advanced practitioners are welcome and encourage to experience a week of connecting to the foundation of our yoga practice)
The Adventure
Two unbelievable adventure tours are included in this amazing retreat:
Cave Tubing
Your cave tubing adventure begins with a jungle hike above the Mayan Caves. Enter the Caves Branch River in your inner tubes and float downstream and through the caves and see their wonders (think lazy rive, Belize style!)
Altun Ha Mayan Ruin
Altun Ha Mayan Ruin is in Belize Boutique Resort and Spa's backyard. A twenty-minute drive to Lucky Strike Village, where Altun Ha Mayan Ruin is located, uncovers the temple of the sun god. Altun Ha Mayan Ruin was discovered in 1957 while building the Pan American Highway through Belize.
Want some more adventure? There are lots of additional excursions available for you to add on to this retreat.
The Spa
The Spa at the Belize Boutique Resort & Spa is internationally and nationally known. It is the first and only full body spa, as well as the first destination spa in the country of Belize.
The established and renowned Belize Boutique Resort & Spa is a unique, beautiful and peaceful space that offers a full selection of body treatments aimed at rejuvenating body, mind, and spirit.
This Belize Spa offers massages such as the Mud Massage, Seaweed Massage, Aromatherapy Massages, Solo & Couples Massage; Body Scrub; Body Wraps; Facials; Hair Packs; Spa Manicures and Spa Pedicures. Spa products are all made from natural ingredients found in the surrounding Mayan Jungle of Belize and are environmentally friendly.
Each Package includes one 40-60 minute massage at the spa available with aromatherapy, seaweed, or mud.
The Food
Savor three catered meals daily:
A Full Breakfast; with coffee, fresh pineapple hibiscus tea, or freshly squeezed juices.
A Tropical lunch daily in Jungle Tree House.
A Three Course Dinner.
There will be Meat & Fish as well as Vegetarian & Vegan options available. We can accommodate allergies, please make sure to list them when you sign up.
The Journey
Booking travel can be tedious, but not on our retreats. once you book your spot, our private travel concierge will reach out to you to assist you with booking your flights, travel insurance, and trip extensions.
Your vacation starts as soon as you land! Our driver will pick you up at the airport and bring you to the resort.
Belize Boutique Resort & Spa is a short 50 minutes drive from Philip S.W. Goldson International Airport (BZE).
Roundtrip transfers from the airport are included at no additional charge.
Pick-ups will be made according to the flight schedule of our participants. We will do our best to keep your wait at the airport to a minimum!
Cancellation Policy & Travel Insurance
Our retreats would not be made possible without the full commitment of our participants and our cancellation policy reflects this. Payments and reservations are non-refundable.

We ask all participants to purchase travel insurance for financial protection against unforeseen circumstances. We like to use Square Mouth to purchase travel insurance. Square Mouth is a website that allows you to compare and purchase travel insurance from reputable providers.
Purchase Travel Insurance
Yoga Beyond The Studio LLC and Yoga Beyond The Studio Retreats LLC do not sell or solicit any insurance products. You are welcome to use any travel insurance provider you'd like.
---
Frequently Asked Questions
Going on the trip of your dreams should be an easy decision to make.
Have any additional questions? Please Chat With Us or Send Us A Message
What if I've never tried yoga?
Even better! The best way to build a healthy habit with yoga is to practice daily, so a yoga retreat is the perfect way to start. Our yoga retreats are always catered to beginners, starting from the basics and building together. All levels of yogis are welcome.
Can I come alone?
Yes! Our community is here to welcome you with open arms. At Yoga Beyond The Studio, we believe yoga is for everyone and we want you to feel supported in your journey. Don't worry about coming on our trips solo, you'll always leave with new friends!
Can you accommodate food allergies?
Every single accommodation we work with provides food options to accommodate your needs. Vegetarian, vegan, gluten-free, dairy-free, whatever you need just let us know and we will make sure you are taken care of!
How do I make this retreat affordable for me?
We understand that a retreat can be a big investment. Payment plans are available to help work it into your budget. Keep in mind that we offer discounts for referrals, so bring a friend and pay even less!
Reserve your spot today!
Will you join us in paradise? Only a few spots left - book your spot today!
Customer Reviews
See what our customers have to say about their experiences on our retreats.