SOLD OUT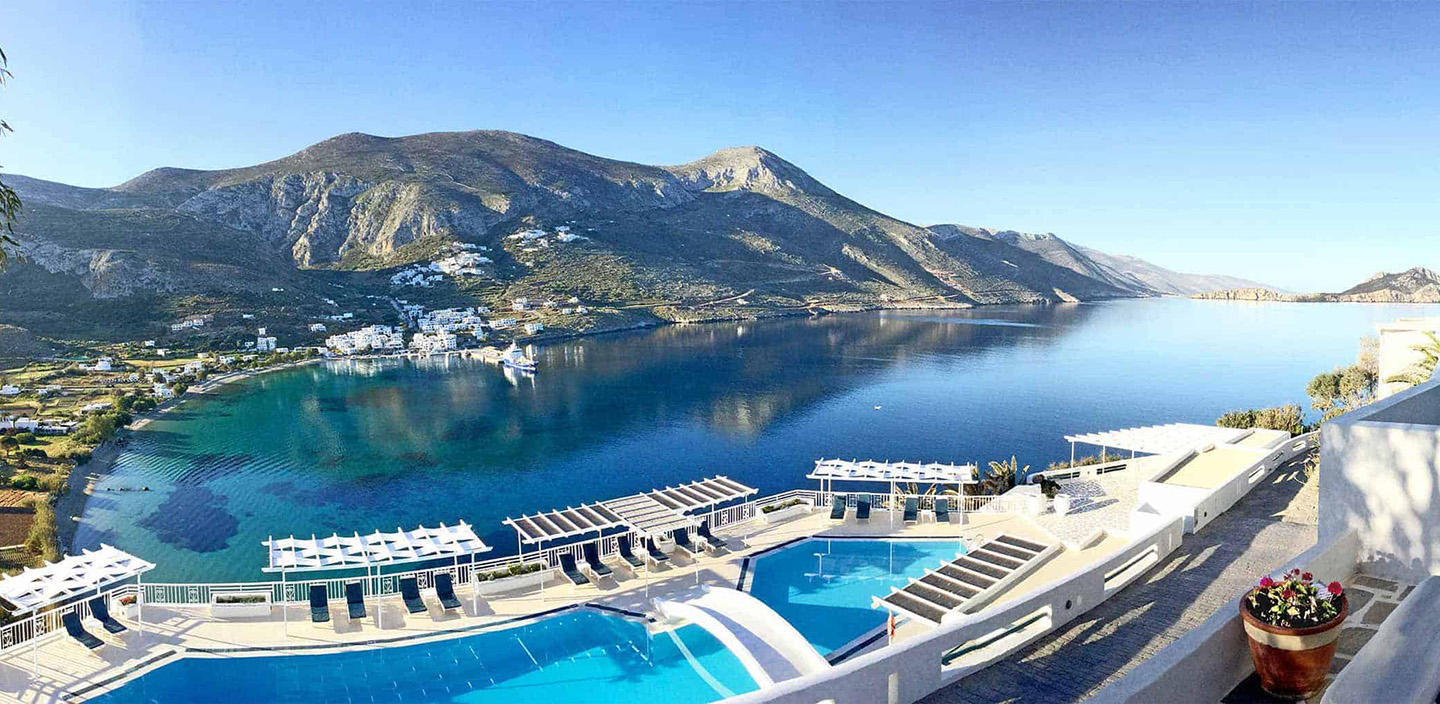 Art & Soul Yoga Retreat in Greece '22
Authentic Greek cooking class, beach excursions, Greek dancing lesson, 1-hour massage, guided island bus tour, daily yoga, and delicious chef-prepared meals.
Retreat Location
Aegiali, Greece
Retreat Dates
September 10 - 17, 2022
Required Yoga Experience
None (beginners encouraged)
This retreat is now sold out. Join Our Waitlist to be notified as soon as a spot becomes available!

About This Yoga Retreat
Soak up the sun, unplug from the stress of daily life and reconnect with nature as you experience activities that nourish and feed your soul.
Practice daily yoga and meditation, swim in the crystal clear blue water, wander the incredible hills of Amorgos, dine on fresh, wholesome food, spoil yourself with a massage, and make memories to last a lifetime.
What's Included
Spend 7 nights and 8 days at the Aegialis Hotel & Spa on the Island of Amorgos. Each booking is for a superior room with private balcony and sea views.
Breakfast served on buffet daily, with organic ingredients from the hotel's garden. Lunch and Dinner daily, including vegetarian and vegan dishes.
Enjoy a complimentary glass of red or white wine with lunch & dinner. Additional beverages may be purchased.
Enjoy a 60-minute massage at the Lalon Idor Spa, an ultramodern thalassotherapy (Greek seawater therapy) center whose treatments are in perfect harmony with the local elements of Amorgos.
Hosted by the resident chef, you will be introduced to the most traditional types of Greek dishes and how to make them step by step.
Dance holds a special place in the traditions of the island. Learn the steps, take part in the amazing culture, and discover the art of living!
Explore the island of Amorgos with this amazing 4-hour guided bus tour. You will visit the most popular monument on the island overlooking the breathtaking views of Amorgos, as well as a visit to the main town of the Island.
We will have two beach excursions to nearby beaches on the island. One trip will be a day of lounging and the second will be yoga at sunset!
In addition to your massage, full spa access is available to you at no additional charge. Enjoy use of the indoor swimming pool, sauna, jacuzzi, fitness center, and Hammam bath.
As a part of our package, you get a 10% discount off any additional face & body treatments at the Spa.
Tickets from the ferry port of Santorini to the port of Amorgos are included. There will be a shuttle waiting at Amorgos port to take you to the hotel. Transportation to Santorini port is on your own.
Booking travel can be tedious, but not on our retreats. Once you book your spot, our private travel concierge will reach out to you to assist you with booking your flights and travel insurance
Daily yoga classes (1 - 2 per day) designed for all levels of yoga with an emphasis for beginners. As with all of our retreats, we welcome and encourage those who have never done yoga before!
We will provide you with the yoga equipment you'll need for this retreat, including yoga mats, blocks, and straps.
Wi-Fi is available throughout the property and in the hotel rooms.
VAT, City Tax, and Tourist Accommodation Government Tax are included.
Transportation from Santorini Airport to the port is not included. Once you land, a taxi is easiest to get to the port. Approximately 20-30 minutes drive.
Roundtrip airfare is not included.
You never know what can happen when it comes to travel. Missed flights, delays, illnesses. You want to make sure you are covered so buy your travel insurance as soon as you book your spot!
Gratuity is not included in the cost of your trip. If you enjoy your experience and the service at our hotel, please thank them for their service with a tip. Usually, 5%-10% is customary in Greece.
Sometimes things don't go as planned due to circumstnaces beyond our control. As such, activities and included parts of the trip are subject to change.
Retreat Pricing
To view our available packages & pricing, click the Book Now button
The 5★ Accommodations
Aegialis Hotel & Spa, The only 5-star hotel in Amorgos island, is a renowned destination for wellness worshipers and yoga enthusiasts, awarded by CNN for being one of the top five Yoga Hotels in Greece!
Aegialis Hotel & Spa has been a reference point for wellness travellers, thanks to its facilities and services, which are all designed to provide well-being in both spirit and body.
The main Restaurant, "Ambrosia Gallery", provides a wide variety of gourmet specialties, with lots of vegan, vegetarian, gluten-free options, etc, all prepared with organic vegetables from our own gardens.
Between the main sandy beach of Aegiali and the beach of Levroso, Aegialis hotel is a maximum 7-10 minutes walk away from the crystal clear waters of Aegiali bay.
According to mythology, Amorgos was the island where Ulysses, returning to Ithaki, was attracted like a magnet by Goddess Kirki, and stayed for many years. Every year since, the same magnetic attraction beguiles wellness and yoga enthusiasts, which flock to our island, attracted by its strong revitalizing energy and the abundance of therapeutic herbs, which make of Amorgos the perfect place for spiritual and physical uplift.
The Rooms
Enjoy a Superior Room designed with subtle, elegant, and modern comfort featuring state of the art facilities in a minimal Cycladic design mentality.
Room Amenities
Private bathroom
Private balcony with amazing sea views
32" flat screen TV
Free Wi-Fi Internet
Air-conditioning
Hair Dryer
Safe Box
Fridge
Coffee and tea maker
Bathrobes, pool towels, and slippers
All rooms have a private balcony offering amazing views of the Aegean sea and the Aegiali beach!
The unique Amorgian hospitality, in combination with the Cycladic beauty promises you memories you will always treasure.
The Yoga
We truly believe that Yoga is for everybody and every body. We also believe that a practice can't really be called Yoga unless it feels good for your body and mind.
Throughout our retreat, the retreat leader will offer 1 -2 Yoga and meditation classes daily catered towards beginners.
Each day we will build on the lessons from the day before ensuring you return home with a new found Yoga practice that you can continue to nurture and grow on your own.
6 yoga shalas with breathtaking views over the sea and full-yoga equipment will allow us an abundance of different yoga experiences and views. We will also practice yoga 1 -2 times at the nearby beaches.
The Food
Opened in 1993, Ambrosia Gallery Restaurant aims to encourage guests to discover the traditional Amorgian cuisine and also enjoy international dishes.
The Chef specializes in Greek traditional food and uses recipes of the owners' grandparents. He prepares local dishes that are available both to meat eaters and vegetarians.
The Restaurant offers a comfortable interior room decorated with paintings from well-known artists, such as Michel Constant, and a large outside terrace with an outstanding view over the bay of Aegiali and the surrounding villages.
The Spa & Relaxation
A soothing experience of stillness and harmony amid the mind-blowing scenery of the Aegean.
Lalon Idor Spa is well-known for its healing and transformative energy, dramatically beautiful landscapes, as well as its hypnotic blue waters.
The name of their Spa is taken from the story of the ancient water oracle dedicated to god Apollo, where visitors came seeking clarity and answers in prophetic water readings. Find purity and peace of mind in a nurturing and peaceful atmosphere, allow the nurturing hands of our highly qualified and inspired therapists bring you to a state of stillness and rest, and let the voice of the sea soothe your mind away from your daily responsibilities or musts.
As a part of your retreat package, enjoy a complimentary 60-minute massage, access to all the spa amenities, as well as a 10% discount on all additional face & body treatments.
The Activities
Each and every activity included in this retreat has been chosen specifically to deepen your connection to the greek culture through exploration, music, and food.
Greek Dance Lessons - Dance holds a special place in the traditions of the island. All year long, there are many opportunities for local people -men and women- to wear their traditional costumes and dance until dawn, to the sound of the lute and violin. A convivial dinner is often the occasion of spontaneous dances (such as Kitos or Syrtos). Learn the steps, take part of the festivities, and discover the art of living.
Cooking Class - Learn the traditional Amorgian recipes in a fun and relaxed atmosphere. Hosted by the resident chef, you will be introduced to the most traditional types of Greek dishes and how to make them step by step. Then comes the best part, eating all of our creations!
Guided Island Tour - The Amorgos guided island tour will begin with a visit to The Monastery of Panagia Chozoviotissa, the most popular monument to explore in Amorgos (expect breathtaking views of the island). This activity also includes a visit to famous beach of Agia Anna, followed by a trip to Chora, the capital of the island where you will walk the beautiful cobblestone alleyways and do some souvenir shopping.
The Journey
You should plan to arrive at least one day before the start of the retreat and spend the night in Santorini, Greece, a great way to see more of the country.
Ferry tickets will be sent in advance of the retreat. You will arrive at the Ferry Port in Santorini (approx 20 mins from airport) at the designated meeting time to take the ferry across to Amorgos (approx 1.5 hours). Ferry tickets will be sent in advance of the retreat.
Once you arrive in Amorgos, you will be greeted by your transfer to the hotel. Look for the shuttle labeled Aegialis Hotel & Spa and they will take you up the hill to the hotel (approx. 30 min drive).
The remote location of Amorgos works like a natural filter keeping crowds small and the island unspoiled. Because of this, there is only one ferry from Santorini to Amorgos each day, it is absolutely imperative for you to be early for the ferry, if the ferry is missed then you will miss the start of our retreat and have to repurchase ferry tickets for another day.
When the retreat is over, transportation is included back to Santorini through the same shuttle and ferry as when you arrive. If you choose to extend your stay before or after our retreat, ferry tickets can be booked for different dates if you let us know in advance. Once the ferry tickets are booked, the dates are final, and the tickets can't be changed or refunded.
Cancellation Policy & Travel Insurance
Our retreats would not be made possible without the full commitment of our participants and our cancellation policy reflects this. Payments and reservations are non-refundable.

We ask all participants to purchase travel insurance for financial protection against unforeseen circumstances. We like to use Square Mouth to purchase travel insurance. Square Mouth is a website that allows you to compare and purchase travel insurance from reputable providers.
Purchase Travel Insurance
Yoga Beyond The Studio LLC and Yoga Beyond The Studio Retreats LLC do not sell or solicit any insurance products. You are welcome to use any travel insurance provider you'd like.
Travel Documents
US Citizens traveling to Greece need a current passport. Check the expiration date to make sure that it does not expire within 6 months of your trip. Visas are not required.
Concerns about the European Economy have had very little effect on tourism in Greece, especially outside the capital. ATMs may limit the amount of money you may withdraw, so it is advisable to manage your cash accordingly. Most small businesses prefer cash transactions, but larger hotels and transport companies usually accept Master Card and Visa.
---
Frequently Asked Questions
Going on the trip of your dreams should be an easy decision to make.
Have any additional questions? Please Chat With Us or Send Us A Message
What if I've never tried yoga?
Even better! The best way to build a healthy habit with yoga is to practice daily, so a yoga retreat is the perfect way to start. Our yoga retreats are always catered to beginners, starting from the basics and building together. All levels of yogis are welcome.
Can I come alone?
Yes! Our community is here to welcome you with open arms. At Yoga Beyond The Studio, we believe yoga is for everyone and we want you to feel supported in your journey. Don't worry about coming on our trips solo, you'll always leave with new friends!
Can you accommodate food allergies?
Every single accommodation we work with provides food options to accommodate your needs. Vegetarian, vegan, gluten-free, dairy-free, whatever you need just let us know and we will make sure you are taken care of!
How do I make this retreat affordable for me?
We understand that a retreat can be a big investment. Payment plans are available to help work it into your budget. Keep in mind that we offer discounts for referrals, so bring a friend and pay even less!
Reserve your spot today!
Will you join us in paradise? Only a few spots left - book your spot today!
JOIN WAITLIST
Customer Reviews
See what our customers have to say about their experiences on our retreats.