SOLD OUT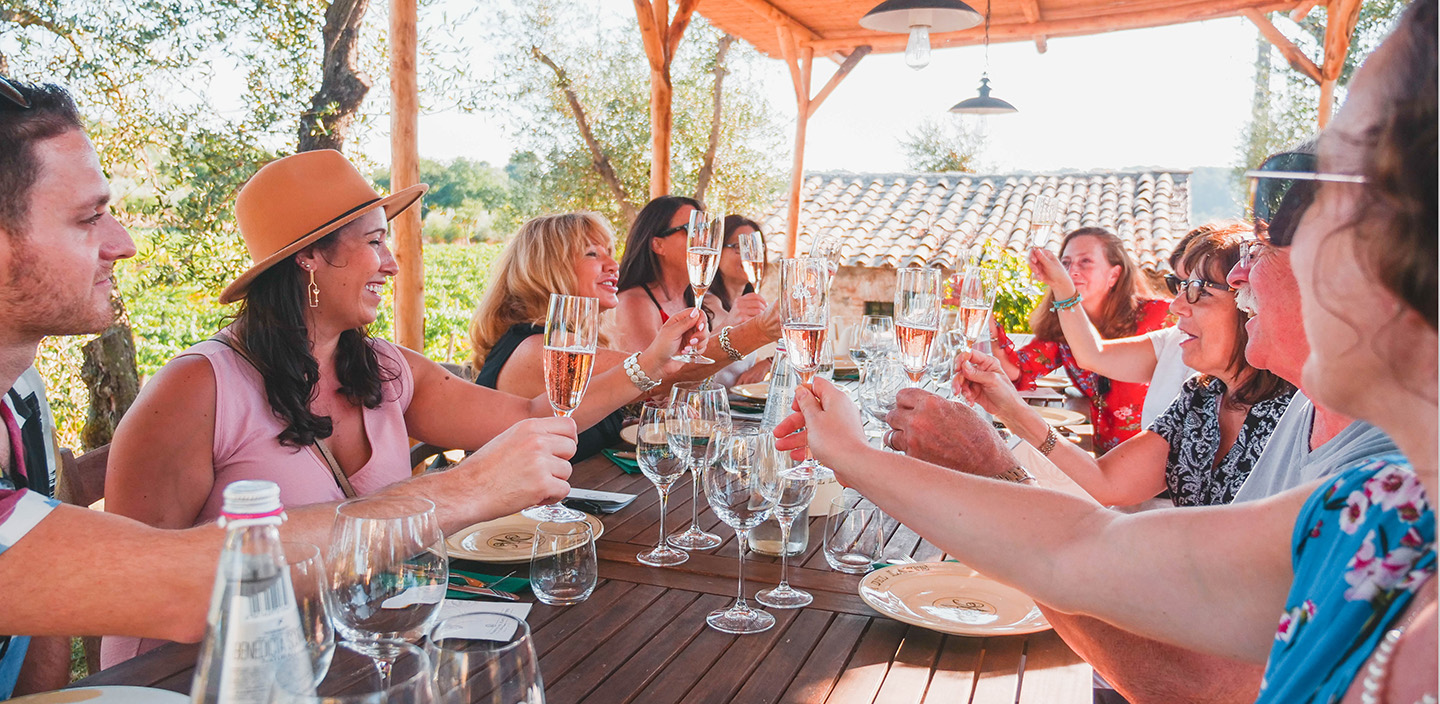 All-Inclusive Yoga Retreat in Italy
Vineyard tours, daily yoga for beginners, an Italian cooking class, 3 daily farm-to-table meals, and gorgeous villas with amazing views of Tuscany.
Retreat Location
Acquapendente, Italy
Retreat Dates
June 19 - 25, 2022
Required Yoga Experience
None (beginners encouraged)
This retreat is now sold out. Join Our Waitlist to be notified as soon as a spot becomes available!

About This Yoga Retreat
Immerse yourself in the rustic beauty of Italian countryside with a week of yoga, delicious farm to table food, vineyard tours, and authentic Italian cooking.
Surround yourself in La Dolce Vita, "the sweet life", in this week-long, all-inclusive retreat in the serene countryside of Italy.
Movement, Breath, and Meditation classes will be taught with the beginner yogi in mind. Classes will be curated to awaken and renew the body, cultivate awareness, and create space for curiosity and discovery. You can deepen your relaxation with a massage, a swim in the private pool, a gorgeous hike through nature, or simply by enjoying your free time with a good book.
What's Included
Spend 6 nights and 7 days at a beautiful family-run accomodation in Acqupendente, Italy. This hidden treasure is located in the heart of the Italian countryside, in the crossroads of Tuscany, Lazio, and Umbria.
Delight in 3 daily farm-to-table meals prepared by the chefs at the on-property restaurant. Delicious italian food for your every meal.
Enjoy a variety of Yoga & Meditation practices catered towards beginners.
Transportation to and from Rome Airport (Leonardo da Vinci–Fiumicino).
Booking travel can be tedious, but not on our retreats. once you book your spot, our private travel concierge will reach out to you to assist you with booking your flights, travel insurance, and trip extensions.
We have two delicious vineyard tours and tastings included on our trip. Each vinyard tour will be accompanied by a light lunch.
Enjoy an authentic Italian cooking class from the chefs at our on-property restuarant.
Enjoy an afternoon stroll to a local trattoria with an authentic three-course Italian lunch. Eat like a local!
Explore the streets of the town of Orvieto with a private tour and transportation included.
Roundtrip airfare is not included.
You never know what can happen when it comes to travel. Missed flights, delays, illnesses. You want to make sure you are covered so buy your travel insurance as soon as you book your spot!
Sometimes things don't go as planned due to circumstnaces beyond our control. As such, activities and included parts of the trip are subject to change.
The Accommodations
Our accomodation for this amazing retreat is a farm-to-table family-run destination at the crossroads of Tuscany, Lazio, and Umbria.
Set among hundreds of acres of gently rolling hills with an onsite restaurant that serves meals all made from their own farm products and other locally sourced products.
Amenities at this property also include a large private pool, sauna, "floating" relaxation table, and an area to enjoy a massage. The lounge bar is open every night for when you'd like a nightcap after dinner.
When choosing your room type, please select single or double occupancy and rooms will be assigned based on availability. If you have any preference (i.e. first or second floor, studio vs apartment, romantic shower vs regular shower) please list them in the comments when booking your spot and we will do our best to accommodate.
The Wine
Italy is the world's largest producer of wine. Grapes are grown in every region of the country and there are more than one million vineyards under cultivation.
Tuscany is home to some of the world's most notable wine regions.
During our time in Italy, we will visit two beautiful vineyards with tastings and tours included.
In addition, one glass of wine is included with both lunch & dinner with additional wine available for purchase.
The Food
For more than a decade now, Rita and Massimo (the owners) have been serving authentic Italian meals made from their own farm products and other local sources in the on-site restaurant.
They designed and built the restaurant with their guests' full dining experience in mind. Designed with traditional details that create a warm and welcoming atmosphere with beautiful views of the surrounding countryside.
The attention to detail in their preparations and the use of local recipes, creatively reinterpreted by Chef Alessandro, who spent 5 years studying the art of Italian cooking, make every meal at Il Tesoro an unforgettable experience.
Il Tesoro can accommodate gluten-free, vegetarian, and vegan dietary restrictions, as well as allergies with advanced notice.
The Yoga
We truly believe that yoga is for everybody and every BODY. We also believe that a practice can't really be called yoga unless it feels good for your body and mind.
Throughout our retreat, we will offer Yoga and meditation classes catered towards beginners.
Each day we will build on the lessons from the day before ensuring you return home with a newfound Yoga practice that you can continue to nurture and grow on your own.
Our accommodation has both indoor and outdoor spaces where we will practice. Their indoor space consists of a temperature-controlled Yoga room with beautiful floor-to-ceiling windows on 3 sides with calming views of rolling countryside hills, tranquil scenery, and the Tuscan vista. Glass sliding doors open onto a beautiful wisteria and ivy-covered terrace that sits in the direct path of light from the rising sun each morning – perfect for our morning Yoga sessions!
Outdoor spaces abound for Yoga. We can set up on the spacious main lawn, in our surrounding fields, amongst the olive trees, or even next to the pool.
(Advanced or experienced yogi? You're welcome too! We encourage you to experience a week of connecting to the foundation of our yoga practice)
The Journey
Booking travel can be tedious, but not on our retreats. Once you book your spot, our private travel concierge will reach out to you to assist you with booking your flights, travel insurance, and trip extensions.
Our accommodation is approximately a two-hour drive from Leonardo da Vinci–Fiumicino Airport (FCO). Roundtrip transfers from this airport are included at no additional charge.
There will be two shuttles arranged based on the arrival and departure of flights, more information will be provided after your booking is made.
Picking Your Room
There are three villas to choose from, each with its own special amenities. Each room is listed and priced by occupancy type (single or double occupancy).
If you have a preference for the type of room or person you would like to room with please note it when you sign up. If you are signing up for double occupancy by yourself, note that if the other spot in the room isn't filled, an additional fee will be due.
There is only one room of each type, some single and some with the option for a spot in a double (in case All of the rooms include a bathroom). Some also include additional amenities such as; a kitchen, a romantic shower, or a fireplace.
Cancellation Policy & Travel Insurance
Our retreats would not be made possible without the full commitment of our participants and our cancellation policy reflects this. Payments and reservations are non-refundable.

We ask all participants to purchase travel insurance for financial protection against unforeseen circumstances. We like to use Square Mouth to purchase travel insurance. Square Mouth is a website that allows you to compare and purchase travel insurance from reputable providers.
Purchase Travel Insurance
Yoga Beyond The Studio LLC and Yoga Beyond The Studio Retreats LLC do not sell or solicit any insurance products. You are welcome to use any travel insurance provider you'd like.
---
Frequently Asked Questions
Going on the trip of your dreams should be an easy decision to make.
Have any additional questions? Please Chat With Us or Send Us A Message
What if I've never tried yoga?
Even better! The best way to build a healthy habit with yoga is to practice daily, so a yoga retreat is the perfect way to start. Our yoga retreats are always catered to beginners, starting from the basics and building together. All levels of yogis are welcome.
Can I come alone?
Yes! Our community is here to welcome you with open arms. At Yoga Beyond The Studio, we believe yoga is for everyone and we want you to feel supported in your journey. Don't worry about coming on our trips solo, you'll always leave with new friends!
Can you accommodate food allergies?
Every single accommodation we work with provides food options to accommodate your needs. Vegetarian, vegan, gluten-free, dairy-free, whatever you need just let us know and we will make sure you are taken care of!
How do I make this retreat affordable for me?
We understand that a retreat can be a big investment. Payment plans are available to help work it into your budget. Keep in mind that we offer discounts for referrals, so bring a friend and pay even less!
Reserve your spot today!
Will you join us in paradise? Only a few spots left - book your spot today!
JOIN WAITLIST
Customer Reviews
See what our customers have to say about their experiences on our retreats.